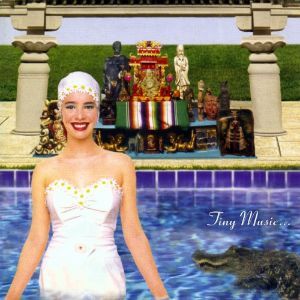 Tracklist:
Press Play
Pop's Love Suicide
Tumble in the Rough
Big Bang Baby
Lady Picture Show
And so I Know
Trippin' on a Hole in a Paper Heart
Art School Girl
Adhesive
Ride the Cliché
Daisy
Seven Caged Tigers
"Tiny Music...Songs from the Vatican Gift Shop" by Stone Temple Pilots
Released March 26, 1996
Favorite track: Lady Picture Show
Stone Temple Pilots are one of those bands where you don't actually know what anyone thinks about them. I feel like that's not actually a very common thing, but for the life of me I cannot find anyone who actually likes their music, only critics who shit all over it and the few old men who idolize Scott Weiland. However, my intel has shown me that apparently everyone who cares about this band really likes Tiny Music, and for good reason too.
So, I'm kinda biased because Tiny Music is another one of my childhood favorites, but even today I think it's an extremely solid album. Stone Temple Pilots do this thing where all of their albums sound completely different from each other, and even Scott's voice kinda differs on this album from their previous offerings weirdly enough. This time, there's no really hard rock songs like you might have found on Core but alot more lounge-influenced and somewhat psychedelic alternative rock tracks (huge shoutout to Dean for those cool-ass open chord voicings that lend to the psychedelia of it all).
This also has gotta be STP's most upbeat record, no question. It's really such a feel-good album, even if some of the tracks have some darker lyrical content, like Lady Picture Show. Although, as for most of the record songs, as usual, I have no clue what Scott is singing about. But it damn sure sounds good!
This blank space is where I will put photos of the CD case and such! Once I find the time to.