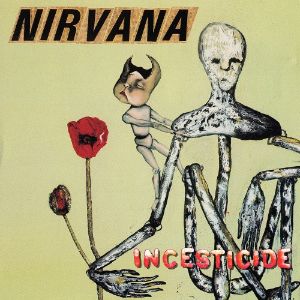 Tracklist:
Dive
Sliver
Stain
Been a Son
Turnaround
Molly's Lips
Son Of A Gun
(New Wave) Polly
Beeswax
Downer
Mexican Seafood
Hairspray Queen
Aero Zeppelin
Big Long Now
Aneurysm
"Incesticide" by Nirvana
Released December 14, 1992
Favorite track: Aneurysm
This is definitely one of my favorite albums of all time. I used to listen to this one all the time when I was a kid. My mom would play it in the car when she was driving me to my old elementary school and I distinctly remember Polly (New Wave) being my favorite track off the album back then.
Honestly, I think Nirvana has some of their best work on this album. The opening track, "Dive", is a nice upbeat yet still distinctly grungy track that I feel really encapsulates Nirvana's overall sound. The covers on the album, as usual, have that unique Nirvana sound that can make it seem like THEY wrote the song if you weren't already familiar with them. "Been A Son" and "Aneurysm" are some really neat unreleased songs that I think are suuuper underrated. In fact, this whole album is really underrated. Before I forget, I also think the mixing on this album is great. One of my biggest issues with In Utero was the fact that it felt too overproduced and clean for grunge, and alot of the tracks on this retain their grit even if some may be a bit cleaner than others. "Mexican Seafood" and "Stain" stand out the most in this regard.
Basically, Incesticide should be your new favorite Nirvana album.
This blank space is where I will put photos of the CD case and such! Once I find the time to.